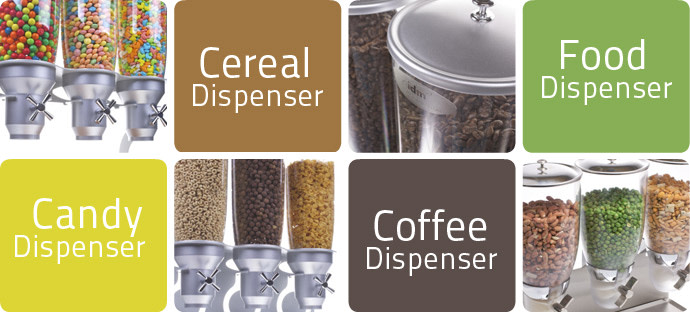 Welcome to the newly launched IDM online store: The best place to order anyone of the IDM products at the lowest prices online. Explore IDM's extensive range of dry food dispensers and simply add your favorites to your shopping cart.
ENJOY! SERVING BETTER
All purchasing at www.food-dispensers.com is fully secured for your safety.
Kell 300 - Cereal Dispenser
Features
Metal stand
Three clear SAN plastic Containers
Metal taps
Lift-off tops
Specifications
Capacity: 3.5 Lt. each container
Size: 47 x 15 x 45h cm
Weight: 5.2 Kg (11.4 pounds)
Versatile: Ideal for bars, Cafeterias and home use
Handy: Full control over the amount you desire
Safe: Does not alter or damage food particles
Hermetically sealed: Preserves freshness for longer periods of time
Economical: Avoids waste and spills
Convenient: Very easy to clean.